AT TOKYO Connectivity
We offer a highly productive network environment whereby our customers can always continue to generate new business opportunities. We are able to do this via our platform that promotes simple and effective connectivity, making us an important global network hub and a central connection point for datacenters across Japan and around the World.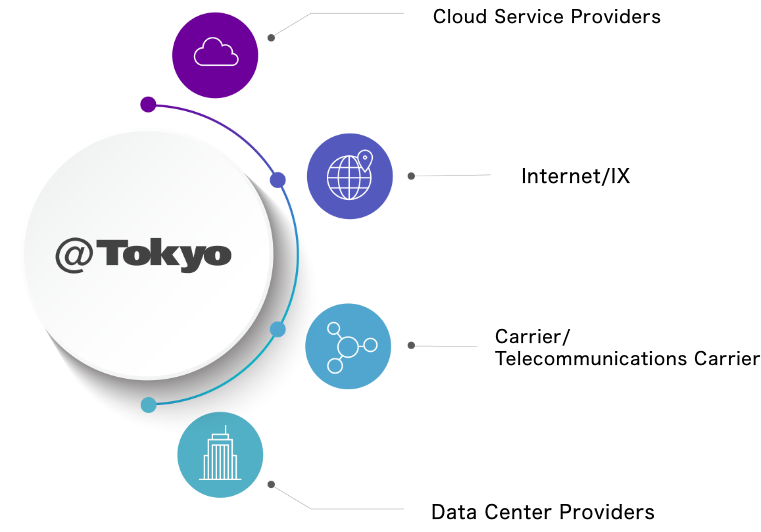 Cloud Service Providers
We can connect you to cloud services such as AWS, Azure, Google Cloud Platform™, IBM Cloud, and Oracle via onsite direct connections within AT TOKYO's data centers. Using these secure and private connections to cloud services from our customers' on-premise systems, it is possible to set up highly reliable, hybrid cloud environments.
See Other Available Cloud Options
Internet/IX
Japan's major IXs, along with the major Japanese and International carriers have a presence in AT TOKYO's data centers.
As a major traffic hub for cloud, ISP, and content providers, and also as a connectivity site/gateway for the Asia-Pacific region, we can provide a high-quality and open connection environment for customers who seek global business development opportunities.
Telecommunications Carriers
As a carrier neutral and vendor neutral data center operator, AT TOKYO has no restrictions on the tenancy of telecommunications carriers.
We serve as a global communications hub, offering a high level of overseas access via numerous submarine cable networks.
Data Center Providers
In addition to our own AT TOKYO data centers, we offer connectivity options with data center providers all over Japan, from Hokkaido to Okinawa.



Search by Service Name
Premium Connect
Direct connection to each onsite cloud connection point via optical-fiber cable.
Option for 1Gbps and 10Gbps dedicated connection, offering stable connectivity even for high-bandwidth communications.


ATBeX(AT TOKYO Business eXchange)
ATBeX is a service that connects within our data centers to a range of cloud services such as AWS, Azure, Google Cloud Platform™, IBM Cloud, and Oracle in a closed, private network. ATBeX is a connectivity platform within our data centers, and is capable of supporting bandwidth of up to 100Gbps per connection. By accessing from one machine installed locally, customers can initiate cross-connects quickly and efficiently to a wide range of services, communities, and also engage in collaborations between enterprise systems.
ATBeX offers the ability to maximize network efficiency by reducing the number of ports utilized when connecting to multiple destinations at low bandwidths.