AT TOKYO Cloud Lab
A data center service that is available for use on a daily basis.
Use of a data center of the highest quality, cloud connection testing, live streaming, video production, etc. are all possible.
Structure Image
Within AT TOKYO data centers, rental spaces (working space and housing rack), that are have direct access to the direct connection points of mega cloud operators, are available for use on a daily basis.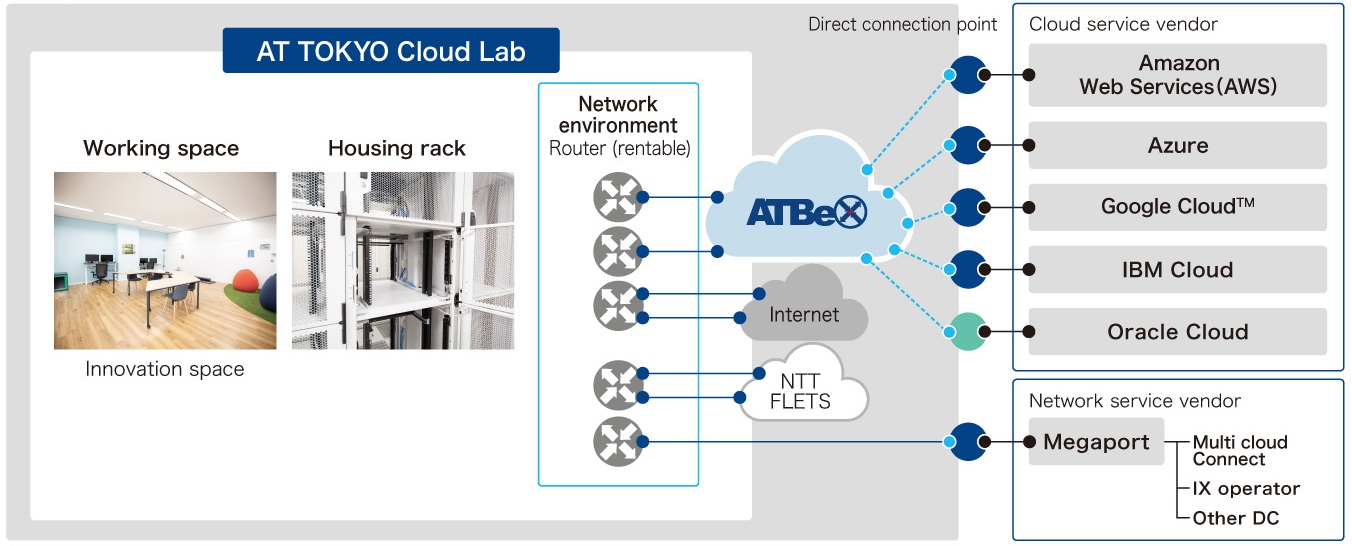 The following network connections are available as standard in order to access to multiple test environments.
We can also loan out network devices.
Connection for onsite access to cloud (ATBeX ServiceLink)
Internet connection
Connection for external access (NTT FLET'S network)
Rental router (limited to devices specified by AT TOKYO)
• Customers can bring in their devices such as servers and communication devices for testing.
• To access cloud, it is necessary to contract for the cloud's direct connection service.
• Cloud account payment and cloud-related expenses to be covered by customer.
Rental space
Short-term use of working space (innovation space) can be made available, and here, meetings or test activities can be performed in a relaxed and casual mood. Housing racks in our housing facility are also available for short-term use.
Innovation space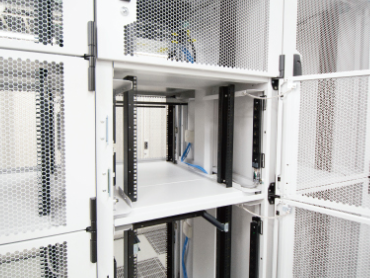 Housing rack
Use example 1: General customer

Testing of cloud connection environment prior to implementation
Use as cloud connected seminar venue
Data link and application test from customer site connected through FLET'S network
Use example 2: Customers involved in content, media, advertising and e-Sports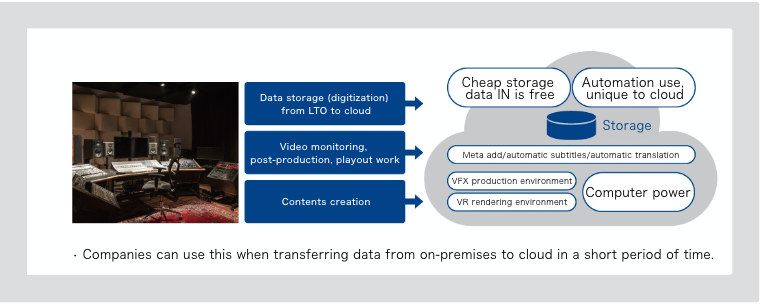 Spot use for live show, etc. (broadband connection between cloud providers)
Interactive production of a venue that is connected to a server on the cloud
Content editing and distribution for the 2020 Olympics and Paralympics events
Digitizing activity (data transfer from LTO to cloud)
Post-production and playout work such as editing, monitoring and switching, using cloud
Companies can use this when transferring data from on-premises to cloud over a short period of time.
Examples of AT TOKYO services that can be used with AT TOKYO Cloud Lab
Contact Us
We will suggest a suitable plan for your request.
Please feel free to contact us.
Contact us by telephone

+81-3-6372-3503