Amazon Web Services
AWS Connection Services
Access to AWS Direct Connect within AT TOKYO's data centers using direct optical-fiber or by using "ATBeX", which also offers a wide range of flexible connectivity options to AWS and a wide range of service providers and potential business partners.
Premium Connect for AWS
High-quality cloud connections. AWS Direct Connect Dedicated (1G, 10G) provides
an on-premises connection that runs straight from your rack via optical-fiber cable.

Key Features
Low-latency direct broadband connection at 1 and 10Gbps over optical-fiber cable
Facilitated within AT TOKYO's highly reliable facilities
Secure operations using on-premises dedicated lines
ATBeX ServiceLink for AWS
Flexible and convenient cloud connectivity. AWS Direct Connect Shared (sub 1G) provides
connections via the "ATBeX"* digital business platform operated by AT TOKYO.

* ATBeX is a platform service that provides a diverse range of connectivity options and offers improved efficiency when making connections to partners within the data center, such as connecting to a service provider within the AT TOKYO data center or making links between enterprise systems.
Key Features
Enables single-line connection with service providers
High-quality telecommunications via high-capacity MPLS network with guaranteed bandwidth
High flexibility, use only the bandwidth you need and only when you need it
Closed network providing high security
Example configuration connecting to AWS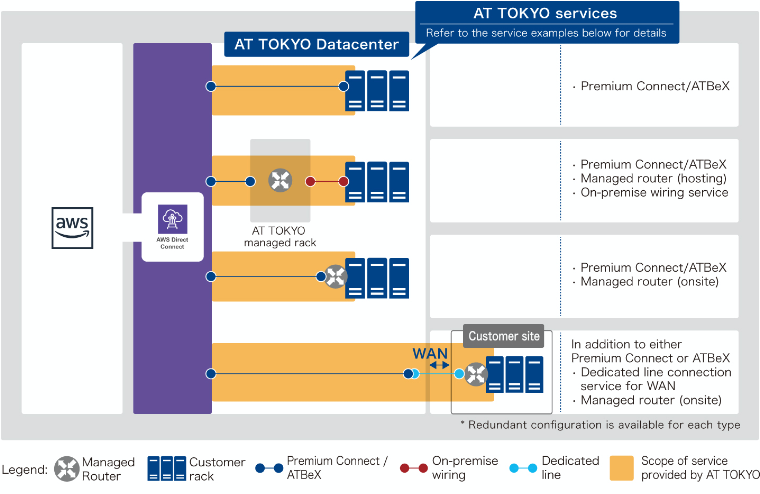 Examples of AT TOKYO services that can be used with cloud services
Contact Us
We will suggest a suitable plan for your request.
Please feel free to contact us.
Contact us by telephone

+81-3-6372-3503