ONU Hosting Service
A service that uses a rack in AT TOKYO's facility to host an ONU (Optical Network Unit) provided by telecommunications carriers.
Our standard service covers from the escorting the ONU installer at the time of initial installation, to the powering off/on unit, or confirming the LED lamps for troubleshooting, plugging and unplugging of cables, and providing escort via remote hands service. By using this service, customers can directly access from their WAN to our cloud connection services, or virtual managed router service, without needing to engage in a contract for an AT TOKYO rack.
ONU Hosting Service Configuration
Installation Method
One contract is for one half-size shelf in an AT TOKYO rack
Up to two ONUs can be installed per shelf
Up to four power outlets are available (100 V only)
・For redundant configuration, ONU power is supplied via a different source
Standard Service Configuration
Operational services
Escorting and oversight of ONU engineer at the initial installation
Escorting and oversight of ONU engineer during troubleshooting/repairs
Remote hands service Powering off/on, confirmation of LED lamp, plugging and unplugging of cables
Optional Service
If the ONU user side interface is not 1000BASE-LX, it is not possible to directly access our service. In that case, we offer "Media converter (MC) rental service", a paid, optional service for connection type conversion.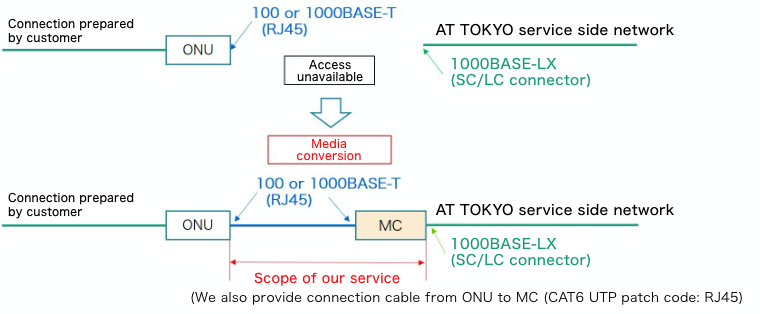 Up to two ONUs and two media converters can be installed per shelf
Examples of AT TOKYO services that can be used with ONU Hosting Service
Contact Us
We will suggest a suitable plan for your request.
Please feel free to contact us.
Contact us by telephone

+81-3-6372-3503