May 30, 2023
AT TOKYO Corporation
AT TOKYO to Open ATBeX Sapporo Access Point and
ATBeX Sapporo Access Point #2
Easy direct connections from within Hokkaido to mega clouds, etc.

AT TOKYO Corporation (headquarters: Koto-ku, Tokyo; President & CEO: Akira Nakamura; hereinafter, "AT TOKYO") is pleased to announce that it will open its ATBeX (*1) Sapporo Access Point (hereafter, "ATBeX Sapporo AP") in AT TOKYO Hokkaido Center 1 (HC1) located in the HOTnet S.T.E.P Sapporo Data Center of Hokkaido Telecommunication Network Co., Inc. (headquarters: Sapporo City, Hokkaido Prefecture; President & CEO: Hiroaki Furugori; hereafter, "HOTnet"), and the ATBeX Sapporo Access Point #2 (hereafter, "ATBeX Sapporo AP #2") in the H-IX Data Center of Hokuden Information Technology, Inc. (headquarters: Sapporo City, Hokkaido Prefecture; President & CEO: Gen Uozumi).
Services of ATBeX Sapporo AP and ATBeX Sapporo AP #2 are scheduled to begin in July and September of 2023, respectively.

In recent years, there has been a growing need for companies and local authorities to connect to mega clouds (*3), including direct connections to government clouds (*2). Decentralization of data centers has become a focus issue from the perspective of risk avoidance in times of large-scale natural disasters.
Considering these issues, AT TOKYO is expanding its ATBeX network service platform to make it a network platform that can be connected to nationwide.

Under these circumstances, AT TOKYO has decided to open ATBeX Sapporo AP and ATBeX Sapporo AP #2 in order to proactively and flexibly meet the cloud connectivity demands in Hokkaido. Customers can use them as a network base in the region as well as ways to enable business continuity plans.

With the opening of these new ATBeX access points, the HOTnet S.T.E.P. Sapporo Data Center and H-IX Data Center will be linked to a group of data centers operated by AT TOKYO via the ATBeX platform, allowing customers to use direct connections to major mega cloud services from both access points on-demand and in redundant 1- and 2-system configurations.
Additionally, as ATBeX Sapporo AP is located within AT TOKYO HC1, customers using AT TOKYO HC1 can directly connect to the ATBeX access point via in-house cabling.

Access to the array of services and connectivity environments provided by the ATBeX platform makes it possible to utilize the platform for business not only in Japan, but also on a global scale.
Key features and connection diagram of ATBeX Sapporo AP/ATBeX Sapporo AP #2
Connect to ATBeX Tokyo Zone to use ATBeX services such as mega cloud direct connections
Support for contracts customized for usage scenarios such as bandwidth settings, usage periods, etc.
Support 1- and 2- system redundancy configurations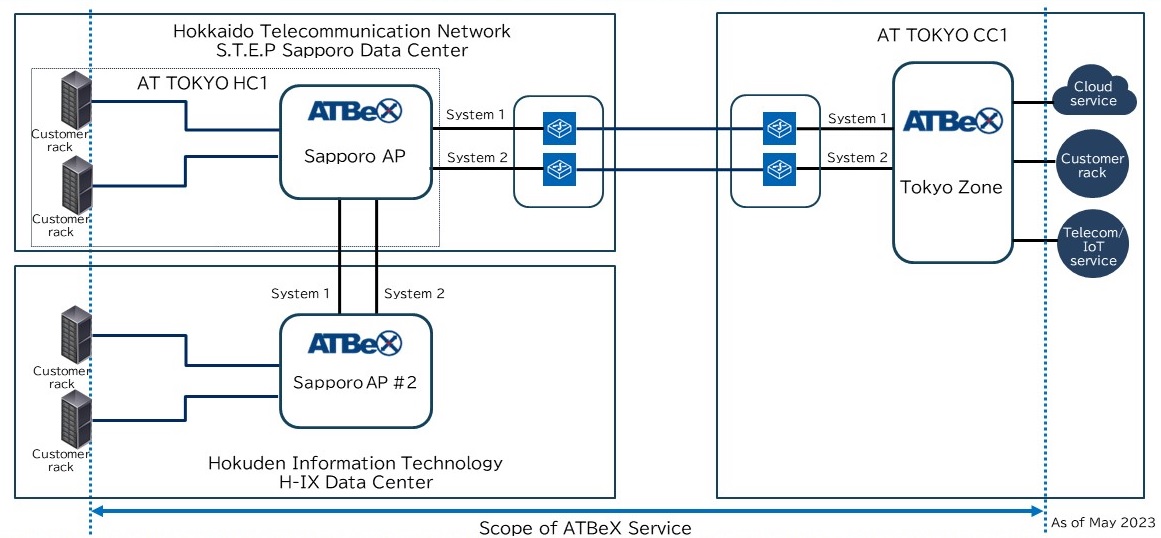 AT TOKYO will contribute to business and local development by enhancing the connectivity of customers in Hokkaido with ATBeX Sapporo AP and ATBeX Sapporo AP #2 to improve convenience, efficiency, and security.


1:ATBeX (AT TOKYO Business eXchange)
A network service platform that provides multiple customer network connections between AT TOKYO's data centers and between affiliated data centers.

2:Government cloud
An environment for using cloud services established and operated by a government to achieve integration, commonization, and standardization of administrative systems.

3:Mega cloud
A generic term for cloud service providers with a large market share and international services but not clearly defined by company name or service name.




More Notes:
* All company names, product names and logos included in this press release are the Trade Names, Trademarks, and Registered Trademarks of their respective companies.
* The information contained in our news release is valid as of the date of announcement. Service and product fees, service contents, specifications, and other information may be subject to change without notice.
Contact Us
We will suggest a suitable plan for your request.
Please feel free to contact us.
Contact us by telephone

+81-3-6372-3503