February 28, 2023
AT TOKYO Corporation
AT TOKYO to Launch "ATBeX Okinawa Access Point" in FRT Data Center Enabling On-Demand Network Connections between Tokyo and Okinawa
AT TOKYO Corporation (headquarters: Koto-ku, Tokyo; President & CEO: Akira Nakamura; hereinafter, "AT TOKYO") is pleased to announce that it will launch ATBeX (*1) Okinawa Access Point (hereinafter, "ATBeX Okinawa AP") in FRT Data Center operated by FRT Inc. (headquarters: Urasoe City, Okinawa Prefecture; President & CEO: Yoshiyuki Ishikawa; hereinafter, "FRT"), to start providing services in April 2023.

Since the launch of its network service platform ATBeX in Tokyo in 2017, AT TOKYO has expanded its coverage area by adding new access points in Osaka (2020), Fukuoka (2022), and Hiroshima (April 2023). The new connection point to the ATBeX network in Okinawa will be launched in the FRT Data Center, that has top-notch facilities and security systems. The ATBeX Okinawa AP will be connected to the ATBeX Tokyo zone in a redundant configuration with separate routes (system 1 and system 2).

Customers using ATBeX will be able to use ATBeX logical lines between Tokyo and Okinawa on a monthly basis with bandwidth options from 50Mbps to 1Gbps. The lead-time for the closed network will be just two business days from receipt of the customer's request.
This ATBeX service will help local authorities and enterprises in Okinawa to facilitate cloud connections and network line arrangements between Tokyo and Okinawa. Also, businesses in Tokyo and Osaka can utilize the data center in Okinawa as an backup site for their BCP (Business Continuity Planning) measures.

AT TOKYO Okinawa Center #1 (OK1), launched along with the Okinawa AP, will allow AT TOKYO to provide one-stop data center services in the Okinawa area, and help customers in Tokyo and Osaka with BCP implementation, deployment of edge computing infrastructure, etc.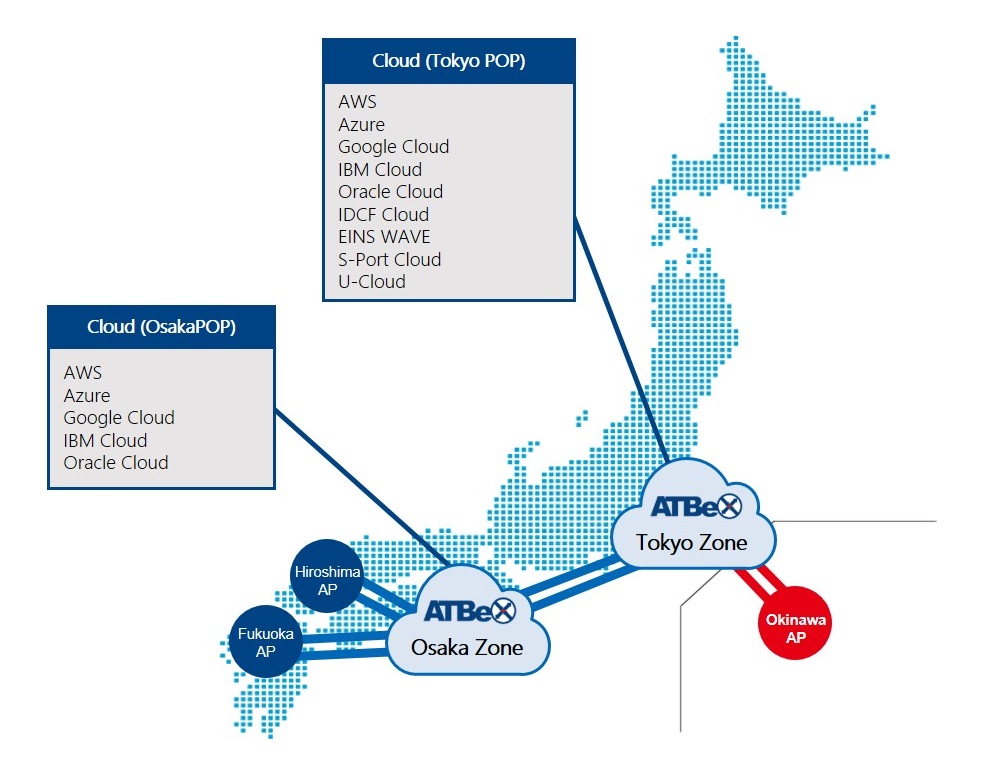 Through the collaboration with FRT, AT TOKYO will offer a more flexible and secure network environment between Tokyo and Okinawa and contributes to the development of its customers businesses.





1: ATBeX (AT TOKYO Business eXchange)
A network service platform that provides multiple customer network connections between AT TOKYO's data centers and affiliated data centers.





* The company names, product names, and logos mentioned in this document are trade names, trademarks, or registered trademarks of the respective companies.
* The information in this press release is current as of the date of publication. Please note that service and product fees, service content and specifications, etc. are subject to change without notice.


Contact Us
We will suggest a suitable plan for your request.
Please feel free to contact us.
Contact us by telephone

+81-3-6372-3503