January 24, 2023
AT TOKYO Corporation
Expanding its Business Network, AT TOKYO Launches ATBeX Hiroshima Access Point in Energia Communications' EneWings Hiroshima Data Center

AT TOKYO Corporation (Headquarters: Koto-ku, Tokyo, President & Chief Executive Officer: Akira Nakamura; (hereinafter referred to as "AT TOKYO") is pleased to announce that it will launch its ATBeX(*1) Hiroshima Access Point (hereinafter, "Hiroshima AP") in the EneWings Hiroshima Data Center managed by Energia Communications, Inc. (Headquarters: Hiroshima city, Hiroshima, Representative Director & President: Nobuo Watanabe, hereinafter referred to as "Energia Communications") on April 1, 2023.

In recent years, demand has been growing for mega-cloud(*2) connections from regional areas in Japan, including local authorities' access to the government cloud(*3) services via closed area networks.
Regional dispersion of data centers is a key challenge, since in the midst of increasing use of low-latency applications and edge computing that require data processing in closer locations, data centers mostly concentrated in Tokyo region can be a hindering factor for the risk management in the event of disaster.

In response to these core essentials, AT TOKYO will establish AT TOKYO Chugoku Center #1 (CH1) and ATBeX Hiroshima AP in the EneWings Hiroshima Data Center as its centralized network location for the Chugoku region. This new access point will fulfil the cloud connection and data center needs of businesses and organizations in that region.

With EneWings Hiroshima Data Center linked with AT TOKYO data centers via the ATBeX platform and connected to ATBeX Osaka zone, the connections via ATBeX Hiroshima AP can be secured with redundant 2-system configuration.

Customers of EneWings Hiroshima Data Center will be able to use the closed network connection to mega-cloud services in Tokyo and Osaka regions. Moreover, other services and connection environments provided on ATBeX's global platform will also become available.

Connection to ATBeX Hiroshima AP
Neutral and flexible connectivity to ATBeX Osaka zone with configuration of 2-system redundancy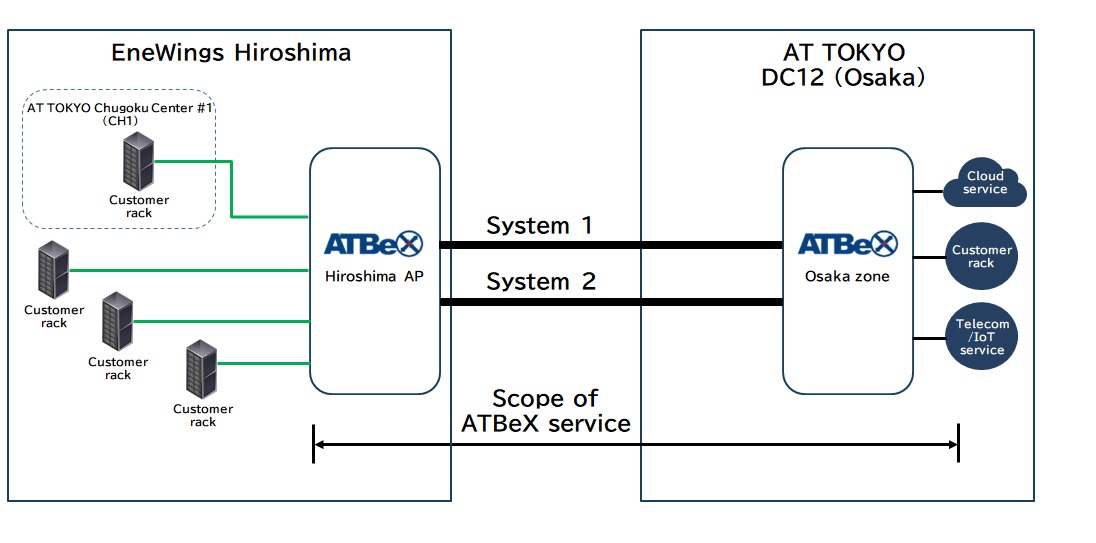 Through this collaboration with Energia Communications, AT TOKYO will improve the convenience, security, and efficiency of connection environment for customers in Chugoku region, West Japan, and across Japan, and in doing so, will contribute to the business growth of our customers.


See corporate profile by clicking HERE.




1: ATBeX (AT TOKYO Business eXchange)
Network service platform that connects multiple customer networks between AT TOKYO and partner data centers.

2: Mega-cloud services
Collective term for cloud platform services provided by cloud providers with major global shares in the market. Specific companies or services are not specified in the definition.

3: Government Cloud
Cloud service usage environment for integration and standardization of administrative systems, constructed and managed by the government.




*All company names, product names, and corporate logos included in this press release are trade names, trademarks or registered trademarks of their respective companies.
*The information contained in this press release is valid as of the date of announcement. Service and product fees, service contents, specifications, and other information may be subject to change without notice thereafter.

Contact Us
We will suggest a suitable plan for your request.
Please feel free to contact us.
Contact us by telephone

+81-3-6372-3503