September 08, 2022
AT TOKYO Corporation
UNIADEX, Ltd.
AT TOKYO and UNIADEX Collaborate to Launch ATBeX NFV Service
in November 2022
Providing SD-WAN, Router, and Firewall Functions on a Virtual Appliance


AT TOKYO Corporation (Headquarters: Koto-ku, Tokyo; President and Chief Executive Officer: Akira Nakamura; hereinafter referred to as "AT TOKYO"); and UNIADEX, Ltd. (Headquarters: Koto-ku, Tokyo; President & CEO: Ken Tanaka; hereinafter referred to as "UNIADEX") will launch the ATBeX NFV service (*1) (*2) from November 2022. AT TOKYO, a seller of this service, will start to accept customers' applications on September 8th.

Amid the increasing demand for internet connectivity due to the use of cloud services and remote office environment, the growing number and complexity of data traffic has placed a significant burden on the IT administrator's shoulder. Also, the costs and operations to purchase new physical devices and also keep tracking of the increasing number of such devices are a cause of concern.

To alleviate such problems, there has been a pressing need for SD-WAN (*3) as it can control network traffic through centralized management. The ATBeX service, AT TOKYO's interconnectivity platform, now supports virtualized router and firewall functions (*4).

These are the backgrounds of why both companies have decided to launch the ATBeX NFV, a new network virtual appliance (*5) service that combines AT TOKYO's ATBeX and UNIADEX's U-Cloud (*6) services to build a virtualized infrastructure for network functions.


ATBeX NFV Service Benefits
SD-WAN, router, and firewall functions can be used on ATBeX without the need to deploy physical equipment.
Customers can configure the settings or manage operations on their own, as it can be used as a dedicated virtual appliance.
Closed-network connections to cloud services can be configured with the router function of the ATBeX NFV, instead of preparing a BGP router in an on-premises environment.
Connections between multiple clouds can be made with the shortest path, by using the router function of ATBeX NFV at the return point.
The licenses for the virtual appliance products can be purchased in bulk, or customers can bring their own licenses (BYOL).
At the start of the service, customers can use the products of Cisco Systems G.K. (We are planning to expand the number of supported vendors in due course.)
The virtual infrastructure can be connected to the customer's environment not only via ATBeX, but also through a direct connection with in-house cabling service (fiber-optic cable connection).

ATBeX NFV Service Overview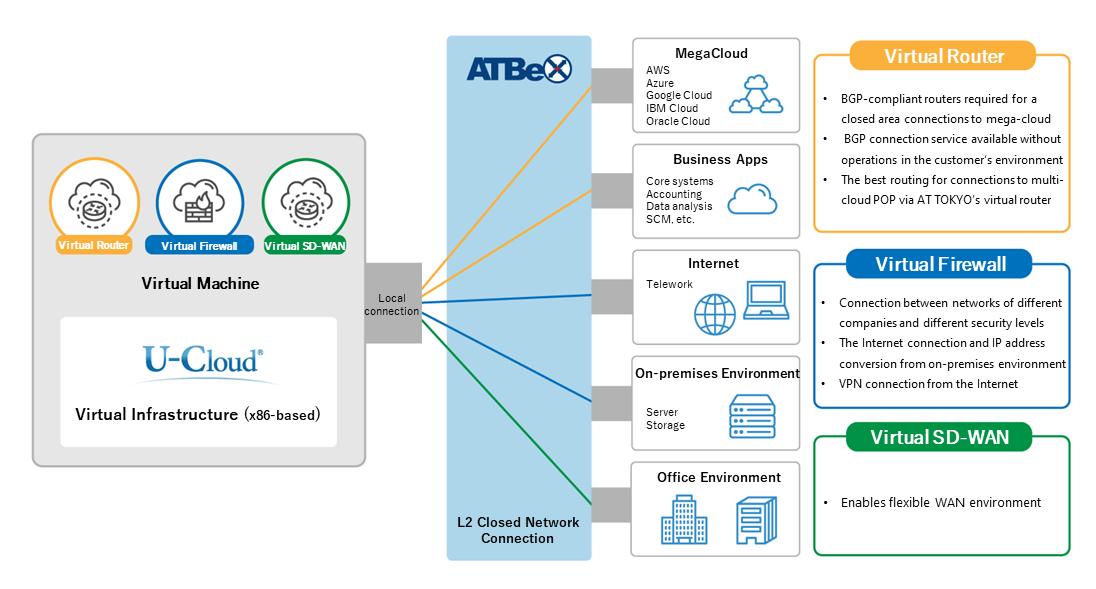 The collaboration between AT TOKYO that provides ATBeX, a network infrastructure for cloud interconnectivity, and UNIADEX with a reliable track record of U-Cloud infrastructure operations and proven technical capabilities in the network domain, will realize the service development in a short time period and provide highly reliable services to corporate customers in Japan.
The two companies will take this service launch as an opportunity to strengthen the partnership and provide high-quality services by leveraging each other's services and solutions, aiming to create an environment for the new value creation for customers' businesses.





*1: ATBeX (AT TOKYO Business eXchange)
Network service platform that provides multiple customer network connections between AT TOKYO's data centers and partner data centers.

*2: NFV (Network Functions Virtualization)
A method in which the functions of network devices and security devices are implemented as software and virtualized to run on a general-purpose server.

*3: SD-WAN (Software Defined-Wide Area Network)
A software-controlled network technology applied to WANs. It enables highly flexible network configurations and flexible traffic control, including Internet lines as well as conventional MPLS networks, and improves manageability, availability, and security.

*4: Virtual Managed Router Service
A service that provides a virtual router configured for customers who are contracted to AT TOKYO's cloud connection service (Premium Connect or ATBeX ServiceLink) to use cloud services from their networks.

*5: Network Virtual Appliance
A method in which network functions such as router, firewall, and SD-WAN are implemented as virtual machines on a virtual infrastructure.

*6: U-Cloud
A fully managed cloud service provided by UNIADEX. The first full-fledged cloud service in Japan, launched in 2008, has been used by over 700 corporate customers.




*All company names, product names and logos included in this press release are the trade names, trademarks, and registered trademarks of their respective companies.
*The information contained in our news release is valid as of the date of announcement. Service and product fees, service contents, specifications, and other information may be subject to change without notice.


Contact Us
We will suggest a suitable plan for your request.
Please feel free to contact us.
Contact us by telephone

+81-3-6372-3503