November 05, 2021
AT TOKYO Corporation
AT TOKYO Ranks in Cloudscene Data Center
Ecosystem Leaderboard for H1 2021
AT TOKYO Corporation (Headquarters: Koto-ku, Tokyo, President and Chief Executive Officer: Akira Nakamura; hereinafter referred to as "AT TOKYO") is pleased to announce that our data center has made the top-ten ranking in Cloudscene Data Center Ecosystem Leaderboard in Asian Region for H1, the period from January to June, 2021.

This is AT TOKYO's second time to appear in the top-ten leaderboard after its first appearance in H2 2020. Cloudscene, an Australia-based digital procurement platform operator, started to release the statistics in 2020, and these are based on data sourced from service providers and data center operators, then collated based on several categories with weight of relative importance for understanding data center ecosystems across the industry.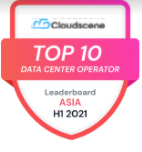 Cloudscene H1 2021 Data Center Ecosystem Leaderboard Winner Badge


AT TOKYO will continue to enhance our customer's convenience for cross-industry connectivity and support creation of new value and innovative businesses, aiming to become a major global hub.




*All company names, product names, and corporate logos included in this press release are trade names, trademarks or registered trademarks of their respective companies.
*The information contained in this press release is valid as of the date of announcement. Service and product fees, service contents, specifications, and other information may be subject to change without notice thereafter.
Contact Us
We will suggest a suitable plan for your request.
Please feel free to contact us.
Contact us by telephone

+81-3-6372-3503